Evening ladies! As I mentioned a few weeks back, I'm taking some time off blogging this summer. To go out with a bang, I decided to leave you with the wise words of the beautiful Coco! Blogger and friend, she redefines London chic and embodies elegance and sophistication. She has kindly agreed to reveal some of her style secrets and share some of her sartorial wisdom with us and with that said, I leave you to discover a little snippet of her universe and wish you all a wonderful summer!
Bonsoir les filles! Pour clore une magnifique année avec vous, j'ai décidé de vous quitter (temporairement bien sur!) avec les sages conseils d'une magnifique Londonienne que je connait depuis quelques mois, la jolie Coco! Coco est une femme que j'admire énormément, elle incarne l'élégance et redéfini a elle seule la classe Londonienne. Elle a gentiment accepté de me livrer quelques un de ses secrets et de nous faire partager sa vision de la mode.Au plaisir de vous revoir a la rentrée, je vais donc vous laisser découvrir son univers car ces conseils ne sont pas a être pris a la légère !

By far the most important and pervasive principle in developing style is to always look immaculate. If each garment looks well-cared for, the whole look will appear purposeful and confidently put-together. A busy lifestyle is no excuse for not doing so. In my opinion one has to learn how to put yourself together at lightning speed. The busier you are, the more important it becomes that your clothing doesn't let you down by looking like you were reading your diary and eating toast at the same time as getting dressed. The second most important thing that you will need to develop your own style is a good memory! You should have a slideshow of pictures of all of the favourite key items on repeat in your head while you shop! Pay attention to pattern, colour and fabric first. There is nothing more satisfying than finding the right outfit-component that will set off some of your existing pieces like NYE fireworks. If you're starting off, or starting over, there are two designers who are famous for creating pieces that act as an amazing base for almost any outfit combination - Chanel and Balmain. You'll see plenty of examples of both at Coco&Co Ldn (

www.cococoldn.com

)
L'un des principes primordiale lorsqu'il s'agit de développer son propre style c'est de toujours maintenir une apparence impeccable. Si chaque habits est choisi minutieusement, tout l'ensemble aura une allure déterminée et dégagera l'impression que votre tenue a été assemblée avec assurance et panache. Un mode de vie qui va vite n'est pas une excuse. Que vous soyez une femme très prise ou non, il est d'importance majeure que vos vêtements soient a la hauteur et ne vous laissent pas tomber en dégageant l'air de quelqu'une qui se serait habillée en prenant son petit-déjeuné ou en lisant son journal intime! Deuxièmement, pour développer votre propre style, il vous faudra vous munir d'une bonne mémoire! Lorsque vous faites les magasins, gardez toujours en tête un diaporama de photos de vos vêtements clés. Faites attention aux motifs, aux couleurs et aux tissues. Rien n'apporte un tel niveau de satisfaction que de trouver l'élément clé qui fera scintiller d'autres membres de votre penderie comme des feux d'artifices lors du nouvel an ! Si vous vous lancez a peine ou que vous souhaitez tourner la page, Chanel et Balmain sont deux maisons réputés pour créer des habits qui font office de « base » a partir de laquelle vous pourrez re-créer d'innombrables tenues ! Pour plus d'exemples, aller faire un tour sur Coco&Co Ldn (

www.cococoldn.com

)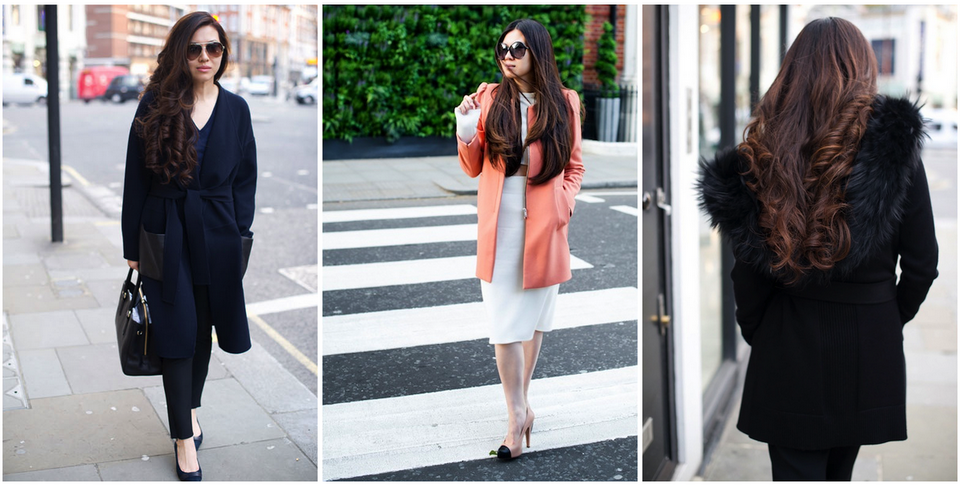 If you're looking for some style staples, the best thing to do is to go with block coloured garments with a great fit. Colours like white/off-white, grey, navy and black will allow you to evolve and develop seasonally with bolder and less-predictable choices, but with no risk of clashing. Alternatively, if you adore monochrome like me, you can develop whole looks devoted to the minimal style and immerse yourself in the philosophy of clean lines and simple silhouettes. When I want to provide a colour accent to an outfit, I choose a red or an orange because they work well with my hair tones and features. This is something that is important not to forget because the whole impression has to work together - style is not about being a mannequin. Once you've selected your base-style, you need to think about what your day looks like. If you're on-the-go, you need clothes that move with you, but keep their shape so that you don't look like you're on-the-go. However, it doesn't matter if you plan to run a marathon of errands, footwear should always include a high-heel, even if the heel itself is tiny. Your legs make up half of your body (or more if you're lucky!) so make them look their best by keeping the calf in work with a good pair of stilettos. For even more height, put on a cropped jacket (waist length), it will make your legs look longer, and your waist look smaller.
Si vous cherchez quelques bases, la meilleure chose a faire c'est d'opter pour des tenues unies, avec une silhouette parfaite. Des couleurs comme le blanc-cassé, le gris, le bleue nuit et le noir vous permettront d'évoluer et de développer votre style au cours des saisons, en accentuant vos tenues avec des couleurs plus osées et moins prévisible, tout en évitant un éventuel 'clash' ! Lorsque je cherche a apporter une touche de couleur a ma tenue, j'opte pour du rouge ou du orange car ces deux couleurs complémentent celle de mes cheveux et convient a mon visage. C'est quelque chose qu'il ne faut jamais oublier car le look au complet doit être harmonieux – avoir du style ce n'est pas forcément ressembler a un mannequin!
Lorsque vous avez choisi votre style de base, il sera temps de penser a votre quotidien. A quoi vos journées ressemblent-elles ? Si vous êtes quelqu'une de très active, il vous faudra des habits qui vous permettront de bouger, sans pour autant dévoiler votre mode de vie effréné ! Par contre, que vous comptiez courir un marathon de courses ou pas, une pair de talons hauts n'est jamais de trop ! Vos jambes font a peu près la moitié de votre corps (plus si vous êtes l'une des heureuses chanceuses) donc mettez les en avant et gardez vos mollets fermes avec une pair de talons aiguilles. Pour élonger d'avantage votre silhouette, optez pour une veste qui ne dépasse pas le niveau de la taille. Ceci vous donnera de jolies gambettes et par la même occasion, l'illusion d'une taille plus fine !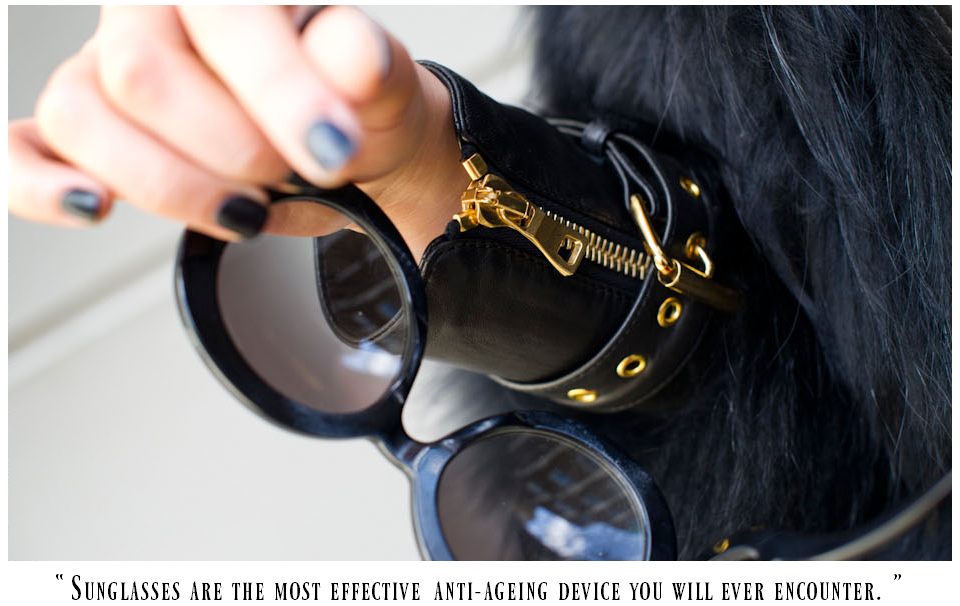 For practicalities (deliberately the final paragraph of this style-synopsis), in colder times, fur is your best friend and it can be dressed up or down depending on your requirements. Sunglasses are a must, and are the most effective anti-ageing device you will ever encounter. Prevention is always better than cure and there is no forgiveness on offer for squinting lines. Even if the weather is over-cast and windy, the gales and the sun's UV light is still enough to weather your pretty little face. For your life's paraphernalia, you'll need a handbag that is big enough to cater for all of those oh-so important items that you would be terrified to leave the house without. Leather will always take first place and try to keep it either a classic black or white and add splashes of contrasting colour with clever accessorising whenever possible - red-leather gloves for example! Remember that incarnating your own style muse involves knowing the basics, remembering them, and giving yourself the time and opportunities to let her shine.
Pour des raisons pratiques (j'ai délibérément laissé ça pour la fin!) optez pour de la fourrure lorsque l'air commence a se refroidir. La fourrure peut être portée sous plusieurs formes pour convenir a vos besoins ! De plus, une paire de lunettes de soleil est essentiel qu'il fasse beau ou pas ! Cet accessoire et le moyen anti-rides le plus efficace et même par un froid de canard, les rayons UV du soleil peuvent causer des dégâts irréparable! Il vous faudra aussi un sac a main suffisamment grand pour trimballer tous ces objets qu'une fille doit avoir sur elle a tout moment ! Le cuir est toujours une bonne option et optez pour quelque chose de classic comme du noir ou blanc car cela vous permets d'ajouter des touches de couleurs ici et la – comme une paire de gants en cuir rouge par exemple! N'oubliez pas que pour incarner votre muse vestimentaire, il faut d'abord connaître les bases, s'en souvenir et se donner le temps (et l'occasion!) de la laisser s'épanouir.
Have a wonderful summer darlings, see you all back here in September!
♥
& Should any of you feel any stalking urges, feel free to holla at me on instagram @LoafersOfLondon